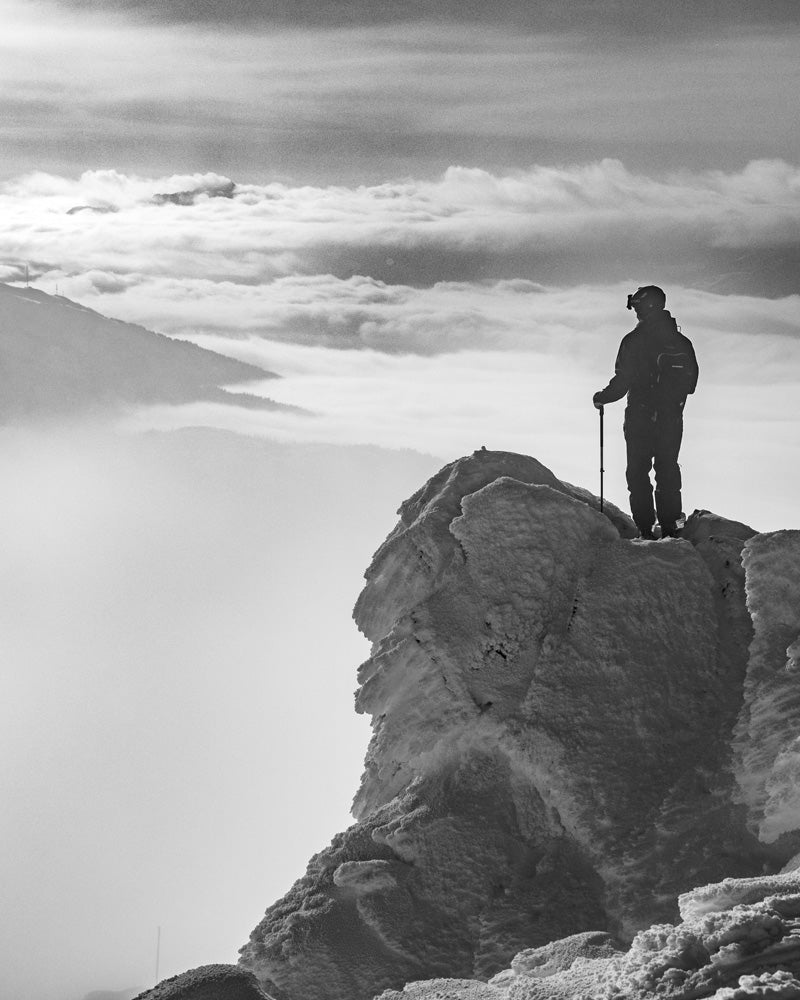 High quality, high function garments demand high quality fabrics and materials. Here are the branded fabrics and materials you will find in our garments.
GORE-TEX® is the undisputed leader in waterproof/breathable fabrics. The fabrics are available in many different versions and with different classes of waterproof/breathable membranes bonded to various outer fabrics. The Mountain Studio has from the start used GORE-TEX® fabrics. Some fabrics are hardshell and others are stretchable.
HOW IT WORKS
Each square centimeter of the GORE-TEX® membrane has over 1,5 billion pores. Each of these tiny holes is 20,000 times smaller than a water droplet. This is what makes the membrane waterproof: rain and snow simply cannot get in. 
The GORE-TEX® membrane is also breathable, and windproof. Each one of those billions of pores is also 700 times bigger than a water vapor molecule, which is just a nice way of talking about your sweat! It means that when you're working hard, or the temperature rises, your sweat can escape. 
 The membrane itself is extremely thin (about 0.01mm). In order to create the fabrics for the garments, the membrane is bonded to high-performance linings and outer fabrics, creating the GORE-TEX® laminate.
GORE-TEX® PRO a 3-layer technology and it is the most rugged and best performing variant. It is especially appreciated by the most demanding users, like our ambassadors, that use our garments practically every day during the season.
.
GORE-TEX® Windstopper is a technology for windy and drier days. Highly breathable and water resistant. Garment seams are not seam sealed. 
GORE-TEX® Paclite is a 2 or 2,5 layer technology we use in our most lightweight and packable garments.
RDS Down
Responsible Down Standard (RDS), is the internationally accepted standard that certifies products that contain feathers and down from certified farms. It ensures that the feathers and the duvet used in the padded products derive from geese and ducks raised in compliance with the principles and criteria of animal welfare. Finished products can only be labeled as RDS Certificates if 100% feather and down is certified.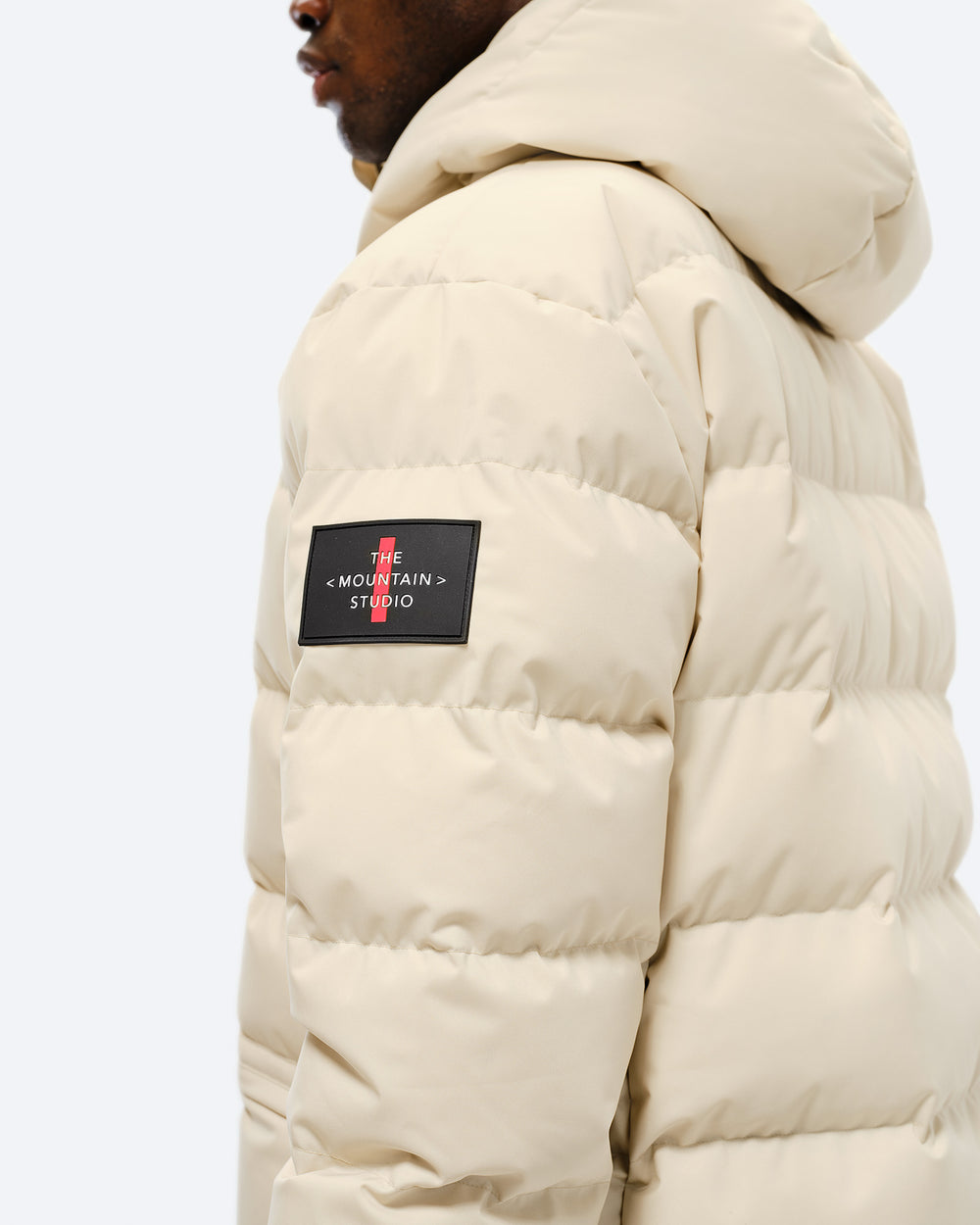 PERTEX
PERTEX® is established as the leader in lightweight technical fabrics, made in different yarns and with various technical properties. The Mountain Studio uses Pertex® Y Fuse fabrics, which use yarns with unique Y shaped filaments. These filaments create tightly interlocking structure, which improves the downproof and water beading properties of the fabric. This structure also means that Y Fuse fabrics remain highly stable over extended wear and washing in spite of being very lightweight and supple.
Cohaesive
Cohaesive™ is the name of a cord management device that streamlines the whole pull-cord system that is used for our adjustable hoods. With this system embedded in the garment you no longer have loose pull cords dangling around. hardware that allows us to bond a cord management system directly into the fabric of the garment. The elastic pull cord and grip icon are the only exposed parts of the system. All you have to do is pull the cord to tighten it and pinch the icon to release the tension.
Nuyarn
Nuyarn® is a spinning technology that releases the natural performance characteristics of wool fibre twisted out by traditional spinning methods. Nuyarn® does not twist the fibres. Instead it drafts wool fibres along a high performance filament resulting in two ply yarns with much more volume and aeration than traditionally spun yarns.
The result is a wool yarn which is much faster drying, stronger and warmer than traditionally spun wool, and with all these improved properties remaining wash after wash.
Primaloft
Primaloft® is a water-resistant, synthetic alternative to goose down that offers similar protection even in harsh conditions. Made from fine microfiber polyester fibers which form a number of small air pockets, the fabric traps the heat generated by the body. 
Primaloft Gold® is often referred to as one of the best synthetic insulators on the market. Lightweight, water-resistant and quick-drying it is a perfect choice for even the most challenging conditions.
Dupont Sorona
 Dupont™ Sorona® is an eco-efficient performance fiber made in part from annually renewable plant-based ingredients. We use it for some of our insulating paddings. The fibers are exceptionally soft and stain-resistant while exhibiting both high strength and flexibility.
Sun Grip Japan
SunGrip are japanese plastic snaps made of polyacetal (POM), a material used in high precision engineering parts in the construction, automotive, aerospace and medical industries. SunGrip Snaps can sustain temperatures up to 150°C  and can be machine washed, dry-cleaned, and ironed without fear of breaking, melting or falling off. They can also retain their strong holding force better than metal parallel spring snaps or prong ring snaps over time.
YKK
YKK, an abbreviation of the company name Yoshida Kogyo Kabushikikaisha is the world's largest zipper manufacturer. It is not only the largest but also considered a leader in innovation, design and quality. The Mountain Studio uses two of their zipper technologies
YKK Aquaguard® zipper is designed to provide a very high level of water resistance and is considered water repellent.
YKK VISLON® These zippers is made of injected plastic elements, such as polyacetal resin. It is strong and lighter than metal zippers and has a nicer touch to the skin than metal zippers.
bluesign
Every item carrying a bluesign® PRODUCT or bluesign® APPROVED label has been manufactured to strict safety and environmental requirements.
Known as the bluesign® criteria, these are the highest standards in the industry.
bluesign® approval means the whole supply chain has been united to reduce the impact on both humans and the planet.  bluesign® PRODUCT means that the specific component is approved whereas bluesign® APPROVED covers the finished garment.
Oeko-Tex
Oeko-Tex labels and certificates confirm the human-ecological safety of textile products and leather articles from all stages of production (raw materials and fibres, yarns, fabrics, ready-to-use end products) along the textile value chain. Some also attest to socially and environmentally sound conditions in production facilities.
The Oeko-Tex® label ensures that the whole finished garment is conforming to the Oeko-Tex® standards.